Nova Southeastern University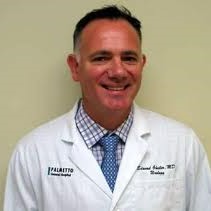 Fellowship Overview
This is a 1-year fellowship in prosthetic urology and men's health. Fellow will learn penile implant, male and female sling, robotic pelvic floor surgery, vaginal mesh techniques, artificial sphincters, andrology (anti-aging and HRT). The fellow will also be exposed to minimally invasive, MRI guided prostate treatment for BPH and cancer if they choose. We also provide holistic urology training. Fellows will learn how to set up a successful practice and marketing strategies. Fellowship heavily focuses on prosthetic surgery and clinical outcomes database research.
Research Focus
Developing computer models and apps for patient outcome reporting.
Office Procedures Performed
Duplex Doppler Ultrasound
Intracavernosal Injections
Intralesional Injections
Testosterone Pellet Insertion
Urodynamics
Penile Deformity Assessment
Surgical Procedures Performed
Penile Plication
Crural Ligation
Penile Fracture Repair
Priapism Shunting
Varicocele Ligation
Vasectomy Reversal/Vasoepididymostomy/Vasovasostomy
Vasectomy
TESE
Artificial Urinary Sphincter
Male Sling
Penile Implant/Prosthesis
Percutaneous Sperm Extraction/Electroejaculation/Penile Vibratory Stimulation
Primary Institution
NOVA Southeastern University
Fort Lauderdale, FL
Fellowship Director
Edward L. Gheiler, MD, FACS
This email address is being protected from spambots. You need JavaScript enabled to view it.
Fellowship Administrator
Sabrina Jimenez
This email address is being protected from spambots. You need JavaScript enabled to view it.
Candidate Citizenship Requirement
US and Canadian
Fellowship Duration
12 months
Type of Fellowship
Sexual Medicine
Research Available
Mandatory
Clinical research
Conference Schedule
Weekly conference with clinical staff.
Interview Schedule
Interviews will be scheduled independently.
Fellowship Website
www.urologytraining.com
Fellowship Application
Please contact fellowship director and administrator.