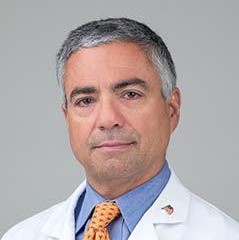 Fellowship Overview
The Andrology Fellowship at the University of Virginia aims to provide the Fellow with the depth of knowledge and surgical skill necessary to provide expert specialty care in the field of Andrology (sexual medicine and male infertility) to the patient. Microsurgical techniques and experiences are taught in a lab and clinical environment. Office-based assessment for patients with sexual dysfunction or infertility is experienced through a mentorship approach. The Fellow may elect to continue work as a General Urologist during the Fellowship allowing a maturation of surgical skills and knowledge particularly in the field of reconstructive surgery. Research time is protected to ensure the opportunity to explore clinical questions.
Both clinical and bench research opportunities are available. Fellows interested in bench research are guided by a dedicated laboratory staff with a strong background in andrology research. Upon completion, the Fellow will have the background to become a leader in the field of andrology through Research and Clinical Practice. Clinical time (two half-day clinics and on average 2 OR day/week) represents approximately 80% of the fellowship experience.
Clinical time will include the Fellow's own clinic and surgery. The clinic will run parallel with Dr. Costabile and Dr. Smith's clinic to allow discussion and review of andrology and infertility cases. General urology patients will also be included in the Fellow's clinical time with the majority of patients being examined for problems with infertility and sexual dysfunction (vasectomy reversal, oligo/azoospermia, Peyronie's disease, ART eval etc). Surgical time will be performed at the outpatient surgery center, clinic procedure rooms and main operating rooms. It is required that the Fellow participate in all Andrology cases. The Fellow is able to schedule and perform general urologic procedures within their ability.
Research Focus
Research time comprises the remaining 20% of the Fellowship. Both clinical and bench research opportunities are available. Dr. Rapp is the Clinical Research Director for the department. If desired, bench research is performed under the guidance of Jeffrey Lysiak, PhD. The Fellow may be involved with research already underway. New research topics and opportunities are mandatory for the Fellow to begin their own research. Current bench research is focused on the role of erectile dysfunction in many disease processes, sperm-egg interaction, and the role of engulfment by Sertoli cells. Clinical research pertains to shockwave therapy for erectile dysfunction, prosthetic surgery outcomes and a variety of infertility topics. Both clinical research and bench research are available for study.
Office Procedures Performed
Duplex Doppler Ultrasound
Intracavernosal Injections
Intralesional Injections
Testosterone Pellet Insertion
Cord Blocks
Semen Analysis
PRP Treatment/Stem Cell/Shockwave
Urodynamics
Surgical Procedures Performed
Penile Plication
Penile Fracture Repair
Varicocele Ligation
Glans Fixation for SST Deformity
Vasectomy Reversal/Vasoepididymostomy/Vasovasostomy
Vasectomy
Oligo/Azoospermia
TESE
Testicular Implants
Artificial Urinary Sphincter
Male Sling
Percutaneous Sperm Extraction/Electroejaculation/Penile Vibratory Stimulation
Penile Implant/Prosthesis
Fellowship position open for 2022-2023
Primary Institution
University of Virginia
Charlottesville, VA
Fellowship Directors
Raymond Costabile
This email address is being protected from spambots. You need JavaScript enabled to view it.
Ryan Smith
This email address is being protected from spambots. You need JavaScript enabled to view it.
David Rapp
This email address is being protected from spambots. You need JavaScript enabled to view it.
Fellowship Administrator
Kathy Steven
This email address is being protected from spambots. You need JavaScript enabled to view it.
Candidate Citizenship Requirement
US only
Fellowship Duration
12 months
Type of Fellowship
Sexual and Reproductive Medicine
Research Available
Mandatory
Both clinical and laboratory research
Conference Schedule
Departmental conferences are held twice weekly and are required. A Resident-based conference occurs once a week as well and the Fellow will assist with the Infertility and Andrology topics. Several national conferences are important for the fellow to attend. These usually include the annual AUA meeting, ASRM, and the American Society of Andrology. Other meetings are attended based on funding and presentations.
Interview Schedule
Upon receipt of your application, interviews will be scheduled individually.
Fellowship Website
https://med.virginia.edu/urology/education-and-residents/andrology-fellowship/
Fellowship Application
Please send your Letter of Interest, CV and two (2) letters of recommendation to Dr. Ryan Smith at This email address is being protected from spambots. You need JavaScript enabled to view it. and copy Kathy Steven at This email address is being protected from spambots. You need JavaScript enabled to view it..
Housing Options
https://med.virginia.edu/gme/program-resources/housing-for-incoming-housestaff/