To register yet for this course, please contact the SMSNA Executive Office directly at This email address is being protected from spambots. You need JavaScript enabled to view it..


Wednesday, November 15, 2023: Open to SMSNA Fall Scientific Meeting (Nov. 16-18) attendees
This course is offered by the Cedars-Sinai Transgender Surgery and Health Program in collaboration with the Sexual Medicine Society of North America (SMSNA).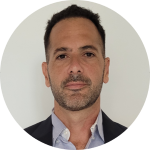 Javier Belinky, MD
Course Faculty
Javier Belinky, M.D. completed Residency training in Urology at the Carlos G Durand Hospital in Buenos Aires, Argentina.
He is Director of the Section of Urethral and Genital Reconstructive Surgery and gender Surgery of CDU Urology Center and Guemes Clinic. Buenos Aires and Durnad Hospital ( 2006-2023). His clinical practice is dedicated to genito-urinary reconstructive surgery, with an emphasis on masculinizing and feminizing gender affirming genital surgery.
He serves as coordinator of the Subcommittee on Reconstructive Surgery of the Argentine Society of Urology, 2010-2012
He is a member of the Subcommittee of Reconstructive Surgery of the Argentine Society of Urology. He is a member of WPATH (World Professional Association of Transsexual Health), and is co-author of the WPATH Standards of Care Guidelines v. 8 (2022). He has served on the WPATH Board (2018-2023). He is a member of AUA (American urological Association), and is a member of GURS (Society of Genitourinary Reconstructive Surgeons).
Biography
Maurice M. Garcia, MD, MAS
Wai Gin (Don) Lee, MBChB, PhD, FRACS
Description:
A one-day course comprised of didactic lectures and two 2-hour hands-on fresh-cadaver lab sessions covering masculinizing genital-reconstructive and gender affirming surgeries (GAS). Designed for both the reconstructive urologist interested in masculinizing genital surgery and for the general urologist interested in better understanding the anatomy and surgical approaches such patients undergo. Taught by leading clinical Urology, Plastic Surgery, and Gross Anatomy faculty from the U.S. and international gender surgery centers, this course offers substantial learning opportunities for the experienced reconstructive surgeon seeking to learn alternative approaches to common challenges in genital gender-affirming surgery.
*A box-lunch will be provided to attendees.
Registration and Course Location (Registration closes Oct 23, 2023)