Birth Control Pills and Depression in Teens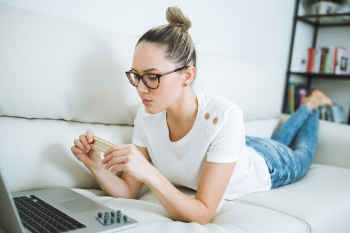 Teens and young adults who take birth control pills might experience symptoms of depression, a recent paper in JAMA Psychiatry suggests.
The finding is based on nine years of data from 1,010 young women aged 16 to 25 in the Netherlands. The women participated in a long-term study of adolescent life and completed questionnaires every three years.
On average, girls who took birth control pills started using them around age 16.
When the researchers analyzed data for all participants, they did not see higher rates of depression. However, they did find that 16-year-old girls using birth control pills had higher scores on depression assessments compared to 16-year-old girls who did not use oral contraceptives.
In particular, those on the Pill reported more crying, more eating problems, and more sleepiness.
The researchers did not find that oral contraceptives caused depression, but the data did suggest an association.
"It looks like the relationship goes both ways," Dr. Hadine Joffe, a co-author of the study, told Medscape Medical News."that people who had more mood symptoms earlier in their teen years were more likely to be on the Pill when they were 16, and vice versa; girls who were on the Pill at age 16 were more likely to have mood symptoms."
It's possible that oral contraceptives' hormonal effects might trigger symptoms of depression.
"Teens are dealing with lots of issues, which makes them more sensitive to many things they take that affect their body and their brain," Dr. Joffe explained.
Resources
JAMA Psychiatry
de Wit, Anouk E., BSc, et al.
"Association of Use of Oral Contraceptives With Depressive Symptoms Among Adolescents and Young Women"
(Abstract. October 2, 2019)
https://jamanetwork.com/journals/jamapsychiatry/article-abstract/2751923
Medscape Medical News
Anderson, Pauline
"Oral Contraceptives Tied to Depressive, Psychiatric Symptoms in Teens"
(October 2, 2019)
Other Popular Did You Know? Articles