What Is the Average Penis Size?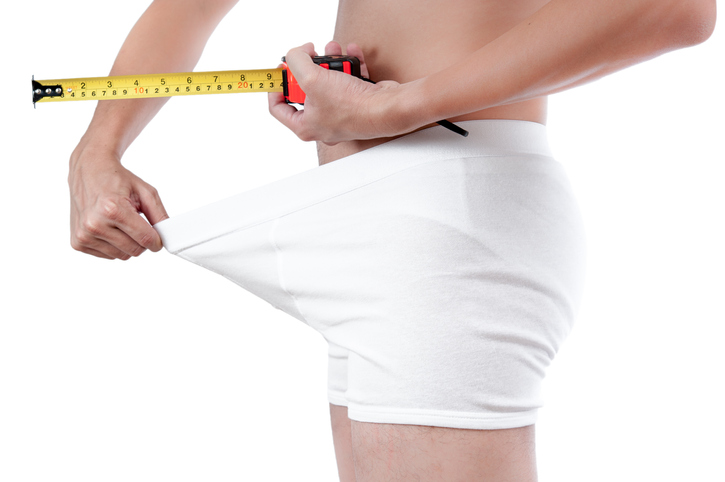 If you have ever wondered how your penis compares to others in terms of size, you are not alone. Many men are curious to know how their penises stack up compared to the average. Unfortunately, general curiosity can sometimes give way to full-on obsession and anxiety about penis size. This can be an unhealthy and often unnecessary fixation, especially because most men who think their penises are too small have perfectly normal-sized penises.
So, what is the average penis size? A study of over 15,000 men found an average flaccid length of 3.6 inches and an average flaccid circumference (girth) of 3.7 inches. When erect, the penises had an average length of 5.1 inches and an average circumference of 4.5 inches.
Perhaps this is not what you expected. In a world that has long associated large penises with virility, power, masculinity, and status, the idea that large penises are the norm is widespread. Historically, men from places all around the world have used ill-advised techniques to increase the size of their penises. Members of the Cholomec tribe in Peru and Sadhus men from India attached weights to their penises in an attempt to gain length. In Brazil, Topinama tribe members allowed poisonous snakes to bite their penises to increase their size through swelling.
Nowadays, men who are not satisfied with the size of their penises might attempt penis stretching techniques like "jelqing" (which may have minimal or temporary results at best) or even consider surgery, often when their penises are completely normal in size. Some have also suggested that the porn industry contributes to unrealistic expectations of penis size and the belief that size is the most important factor when it comes to a sexual partner's pleasure and satisfaction.
In reality, multiple studies have indicated that most female partners of men do not place much importance on the size of their penises. One study of sexually active women at the University Hospital Groningen revealed that 77% of the women surveyed found the length of their partners' penises unimportant (55%) or totally unimportant (22%). Furthermore, in a study of over 52,000 subjects, approximately 85% of women reported being satisfied with the size of their partner's penis, while only 55% of men were satisfied.
Less research has been done on the importance that gay and bisexual men place on the size of their partners' penises, but one study on this topic suggested that men who have male sexual partners have a more accurate idea of the true average size of a penis than men who only have female sexual partners, due to their greater and more intimate exposure to other penises.
Since the average penis size is smaller and generally less important to sexual partners than most men believe, it is likely that most men's worries about size are unnecessary. Nevertheless, if you find that the size of your penis is causing you frequent anxiety or distress, talk to your health care provider or therapist about your concerns.
Resources:
Davoudzadeh, E.P., Davoudzadeh, N.P., Margolin, E., Stahl, P.J., & Stember, D.S. (2017). Penile Length: Measurement Technique and Applications. Sexual Medicine Reviews, 6(2), 261-271. https://www.smr.jsexmed.org/article/S2050-0521(17)30121-X/fulltext
Francken, A.B., van de Wiel, H.B.M., van Driel, M.F., & Weijmar Schultz, W.C.M. (2002). What Importance Do Women Attribute to the Size of the Penis? European Urology, 42(5), 426-431. https://pubmed.ncbi.nlm.nih.gov/12429149/
Grov, C., Parsons, J.T., & Bimbi, D.S. (2010). The Association between Penis Size and Sexual Health among Men Who Have Sex with Men. Arch Sex Behav, 39(3), 788-797. https://www.ncbi.nlm.nih.gov/pmc/articles/PMC2874247/
Marra, G., Drury, A., Tran, L., Veale, D., & Muir, G.H. (2019). Systematic Review of Surgical and Nonsurgical Interventions in Normal Men Complaining of Small Penis Size. Sexual Medicine Reviews, 8(1), 158-180. https://www.smr.jsexmed.org/article/S2050-0521(19)30012-5/fulltext
Pastoor, H., & Gregory, A. (2020). Penile Size Dissatisfaction. The Journal of Sexual Medicine, 17(7), 1400-1404. https://www.jsm.jsexmed.org/article/S1743-6095(20)30182-X/fulltext
Veale, D., Miles, S., Bramley, S., Muir, G., & Hodsoll, J. (2014). Am I Normal? A Systematic Review and Construction of Nomograms for Flaccid and Erect Penis Length and Circumference in Up to 15,521 Men. BJU International, 115(6), 978-986. https://bjuijournals.onlinelibrary.wiley.com/doi/abs/10.1111/bju.13010
Other Popular Did You Know? Articles