Cancer is "a Relationship Disease"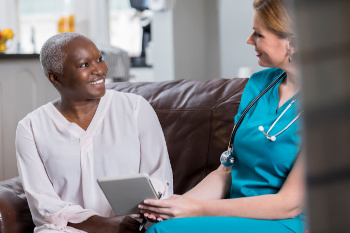 Experts estimate that up to 90% of gynecologic cancer survivors develop sexual problems from illness and treatment. And often, their partners feel the effects, too.
"Cancer is in fact a 'relationship disease'; whether in a heterosexual or homosexual relationship, a patient never has cancer alone," write the authors of a recent study on psychosexual health. The paper was recently published in the International Journal of Obstetrics and Gynaecology.
Gynecologic cancers specifically target the ovaries, uterus, cervix, vagina, and vulva. Treatments may include surgery, chemotherapy, hormone therapy, and radiation.
Sexual issues – such as low sex drive, vaginal dryness, painful intercourse, and poor body image - are common for survivors. Relationships might suffer, as some women avoid sexual activity, feel anxious about their partner's feelings, or question their own attractiveness.
Unfortunately, sexuality isn't always addressed by healthcare providers who treat gynecologic cancer survivors. Women might feel embarrassed about bringing up the topic, and some doctors don't feel they have the time or training to pursue it.
Women might consider sex therapy or relationship counseling with a professional who has experience working with cancer survivors.
"Couple rehabilitation is an important consideration," the study authors wrote, adding, "Sexual problems will have an impact on the patient, on the partner, and on the relationship. In sexual rehabilitation in the context of cancer, 'the couple' should be regarded as 'the patient.'"
For more information on women, cancer, and sexuality, please see these links:
The Effects of Cancer on Women's Sexuality
Female Cancer Survivors and Sex Health Issues
Cancer and Sex for Single Women
Women Have Sex Less Frequently After Treatment For Gynecologic Cancer
Resources
International Federation of Gynecology and Obstetrics
"Psychosexual health and cancer"
(January 16, 2019)
https://www.figo.org/news/psychosexual-health-and-cancer-0016135
International Journal of Obstetrics and Gynaecology
Boa, Rosalind and Seija Grénman
"Psychosexual health in gynecologic cancer"
(Full-text. First published: October 11, 2018)
https://obgyn.onlinelibrary.wiley.com/doi/10.1002/ijgo.12623