Depression and Sleep Problems Linked to Urologic Conditions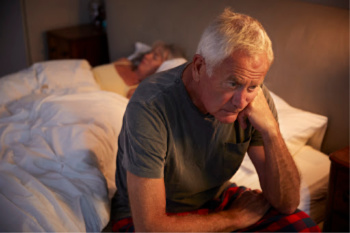 Men with urologic problems might also be at risk for depression and sleep disorders, experts report.
Depression and sleep problems are common with many medical conditions. In this study, researchers from the University of California, Irvine wanted to know how these issues affected men with conditions like erectile dysfunction (ED), prostate problems, and low testosterone.
The participants included 124 men (average age 54) who were patients at a men's health clinic. The men completed a number of questionnaires that evaluated their erections, prostate health, hormonal status, and general sleepiness. They also answered questions about symptoms of depression, sleep apnea, and insomnia.
Almost half of the men had moderate to severe erectile dysfunction. About 80% had hypogonadism (low testosterone), and 43% had moderate to severe prostate problems.
Based on the questionnaire results, over half the men were at risk for sleep apnea. About 39% met the criteria for mild to severe depression. Rates for insomnia and sleepiness were lower, but still concerning – 18% and 17% respectively.
Men who were older or overweight were at higher risk for depression and sleep disorders. The same was true for men with low testosterone levels and men who had lower urinary tract symptoms (LUTS – problems with urination that affect many men with an enlarged prostate).
Urologists should ask men if they are feeling depressed or having difficulty sleeping, the authors said.
The study was published in August in the International Journal of Impotence Research.
Resources
International Journal of Impotence Research
Walia, Arman S., et al.
"Patients presenting to a Men's Health clinic are at higher risk for depression, insomnia, and sleep apnea"
(Abstract. Published: August 31, 2018)
https://www.nature.com/articles/s41443-018-0057-z
Medical News Today
Paddock, Catharine, PhD
"Urologic conditions lead to depression, sleep issues in men"
(September 4, 2018)