How Does Prostate Cancer Treatment Affect Gay and Bisexual Men?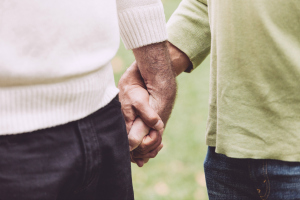 Physically, prostate cancer treatment affects men in similar ways. Men may experience erectile dysfunction, low sex drive, and trouble with ejaculation and orgasm.
However, these issues can have different effects on the sexuality of gay and bisexual men compared to straight men.
For example, many gay and bisexual men have anal sex, which requires a more rigid erection than vaginal sex to be successful and satisfying. Erectile dysfunction makes anal sex more difficult.
With anal sex, the problem goes beyond getting an adequate erection. Men who have sex with men often identify as the "bottom" (the receptive partner) or "top" (the penetrating partner). Erection problems may mean a shift in role for top partners, and, for some, a shift in identity.
Receptive partners may need to change their role as well. Sometimes, radiation treatment affects the anus, leading to pain for bottom anal sex partners. In addition, receptive men who enjoy stimulation of the prostate gland during anal sex may find encounters less satisfying if their prostate has been surgically removed.
It's also possible for men to develop ED and have anal pain at the same time, making both top and bottom roles difficult.
Orgasms and ejaculation can become problematic too, regardless of the type of sex men are having (such as anal sex, oral sex, or mutual masturbation.)
Men might need more time or stimulation to reach orgasm. When they do climax, they might be disappointed if their orgasms are less intense than they were before prostate cancer treatment.
Men who have their prostate gland removed are no longer able to ejaculate. But for many men who have sex with men, ejaculation is an important visual sign of sexual enjoyment. If a man cannot ejaculate, his partner may worry about being attractive or sexually pleasing.
Ejaculatory disorders may also affect couples who wish to have children.
Sexual challenges after prostate cancer treatment can take their toll on a man's psychological health and relationships. Depression and anxiety are not uncommon, and men may feel disconnected from their gay and bisexual community and sense of self.
Fortunately, there is hope. For example, there are effective treatments for ED, such as pills, vacuum devices, and injections. Counseling can help men coping with depression or anxiety. And through sex therapy, men can learn to readjust their roles in sexual relationships, if they feel they need to.
Discussing their concerns with their partner and their cancer care team is a good starting point.
Some men are reluctant to talk about their sexuality, especially with doctors. However, ignoring the conversation could prevent men from getting the help they need. In such cases, men might consider seeking support from peers who can offer advice and referrals to healthcare providers who specialize in the health of gay and bisexual men.
Resources
Australian Research Centre in Sex, Health and Society
Dowsett, Gary W., et al.
"Moving On: Mental Health, Resilience and Sexual Recovery among Gay Men living with Prostate Cancer"
(November 2015)
http://malecare.org/wp-content/uploads/2015/12/MovingOn.pdf
Malecare.com
"Gay Man's Guide to Prostate Cancer and Doctors"
http://malecare.org/gay-prostate-cancer-and-doctors/
U.S. News & World Report
Miller, Anna Medaris
"When Gay Men Get Prostate Cancer"
(November 9, 2017)
https://health.usnews.com/health-care/patient-advice/articles/2017-11-09/when-gay-men-get-prostate-cancer
Sexual Medicine Society of North America
"Does sexual orientation alter sexual recovery following prostate cancer?"
http://www.issm.info/sexual-health-qa/does-sexual-orientation-alter-sexual-recovery-following-prostate-cancer/
"Gay and Bisexual Men with Prostate Cancer May Need Targeted Support"
http://www.issm.info/news/sex-health-headlines/gay-and-bisexual-men-with-prostate-cancer-may-need-targeted-support/
Other Popular Did You Know? Articles