Prostate Cancer's Effects on Caregiving Partners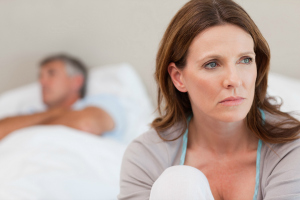 As it is for most health conditions, caregiving for a man with prostate cancer can take a significant toll on one's own health and well-being.
This past March, at the annual meeting of the European Association of Urology (EAU), researchers presented the results of a study of 56 wives taking care of husbands with advanced metastatic prostate cancer. (Metastatic means that the cancer had spread beyond the prostate to other parts of the body.) The wives' average age was 69 years.
Forty-six percent of the women said that their husband's prostate cancer had affected their own health.
One of the biggest adjustments the women faced was the change in roles. They had married during a time when men's and women's marriage roles were more traditional and distinct than they are now. Some men were "unrealistic" about what they could still do, and the wives struggled to fill the gaps.
"We have 22 windows and my husband thinks that he can still polish them and also do all the gardening," one woman said. "But nothing happens and he doesn't want me to arrange professional help."
(Note: Women's comments were provided in an EAU press statement.)
Wives also reported feeling socially isolated, as their husbands often did not feel up to socializing. One woman remarked, "Because he sleeps so much we do not visit the family or our friends and do not have many guests."
Women were concerned about being – and feeling – alone as well, noting that they tried to be strong, not wanting to burden others by discussing the illness or asking for help.
If you're taking care a partner with prostate cancer, keep these ideas in mind:
Educate yourself about prostate cancer, the treatment options, and what side effects you might expect. Accompany your partner to appointments, take notes, and ask questions. Understand that there will likely be changes, especially in urinary and sexual function.
Be there for emotional support. Let your partner know he can open up to you with his thoughts and feelings.
Try to take good care of yourself. Follow a healthy diet, exercise, get enough sleep, and reach out to family and friends. Your health is just as important as your partner's.
Remember that you are not alone. Your partner's healthcare team is there for both of you and can offer referrals for support groups and counseling.
Let family and friends help. Often, people want to help, but they aren't sure how. If someone offers to pick up groceries, clean the gutters, or accompany your partner to a baseball game, say yes. And don't hesitate to ask for help when you need it.
Resources
HealthDay.com
Preidt, Robert
"His Prostate Cancer Becomes Her Struggle, Too"
(Updated: March 23, 2018)
https://consumer.healthday.com/cancer-information-5/prostate-cancer-news-106/his-prostate-cancer-becomes-her-struggle-too-732135.html
Urology Care Foundation
"Prostate Cancer: A Caregiver's Guide"
http://www.urologyhealth.org/caregiverguide/
UroToday.com
Avlastenok, J., et al.
"EAU 2018: Quality of Life of Spouses Living with Men Undergoing Androgen Deprivation Therapy for Prostate Cancer"
(Abstract presented at European Association of Urology 2018 conference, March 2018, Copenhagen, Denmark)
https://www.urotoday.com/conference-highlights/eau-2018/eau-2018-press/102916-eau-2018-quality-of-life-of-spouses-living-with-men-undergoing-androgen-deprivation-therapy-for-prostate-cancer.html
"EAU 2018: Wives of Many Prostate Cancer Sufferers Made Ill or Feel Undermined by the Disease"
(Press statement. March 19, 2018)
https://www.urotoday.com/conference-highlights/eau-2018/eau-2018-press/102884-eau-2018-wives-of-many-prostate-cancer-sufferers-made-ill-or-feel-undermined-by-the-disease.htmlProstate Cancer's Effects on Caregiving