Prostate Cancer: The Effects of Androgen Deprivation Therapy on Intimate Relationships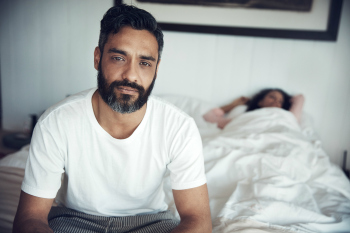 Intimate relationships with partners may decline when men with prostate cancer start androgen deprivation therapy (ADT).
But there is hope, according to a recent study published by Supportive Care for Cancer.
Androgens, such as testosterone, are male hormones. They give men their masculine traits and fuel their sex drive.
Unfortunately, androgens can also fuel prostate cancer cells. Scientists have found that reducing a man's androgen levels might shrink tumors and slow down cancer cells' growth. Androgen deprivation therapy (sometimes called hormone therapy or androgen suppression therapy) – lowering androgen amounts – may be used with other treatments like surgery and radiation.
Sometimes, ADT is done surgically by removing the testes. ADT may also be administered through medications that either lower androgen levels or stop androgens from working.
ADT does have side effects, including sexual ones. Men may find themselves less interested in sex. Some develop erectile dysfunction (ED). Other side effects, like fatigue and depression, can put strain on sexual relationships, too.
In the study, researchers worked with 72 prostate cancer patients and their partners. As the study began, the patients were just about to start ADT. At this time, the couples completed questionnaires on their quality of life, sexual relationships, and mood. They filled out the questionnaires again at 3- and 6-month follow-up points.
After 3 months, couples were experiencing more sexual bother. At the 6-month mark, couples had seen declines in sexual function and relational intimacy. The researchers reported no major mood changes.
The couples also had sex less often as time progressed. At the start of the study, 38% of the couples were sexually active, but this figure dropped to 15% after 3 months. After 6 months, only 7% of the couples were sexually active.
While the results sound discouraging, there are bright spots. Couples rated their emotional intimacy higher when the partners understood how the patients were feeling. And they reported better sexual intimacy when they were more sexually active.
What does this mean for men embarking on cancer treatment now? Couples can work together to keep their relationships strong.
Communicate. Some men become distant or are reluctant to share their feelings. Opening up to a partner can release anxiety and fears.
Stay intimate. Couples may need to adjust their sexual activities or try different positions to see what works best for them.
Consider sex therapy or counseling. Cancer can be physically and emotionally overwhelming. Some couples struggle to face it as a team. A specialist can help them cope.
Resources
American Cancer Society
"Hormone Therapy for Prostate Cancer"
(Last revised: July 18, 2018)
https://www.cancer.org/cancer/prostate-cancer/treating/hormone-therapy.html
"Sex and the Man with Cancer"
(Last revised: August 19, 2013)
https://www.cancer.org/treatment/treatments-and-side-effects/physical-side-effects/fertility-and-sexual-side-effects/sexuality-for-men-with-cancer.html
Oncology Nurse Advisor
Nam, James, PharmD
"ADT Affects Sexual Function, Intimacy in Early Prostate Cancer Treatment"
(May 24, 2018)
https://www.oncologynurseadvisor.com/prostate-cancer/adt-affects-sexual-function-intimacy-in-early-pca-treatment/article/768369/
Supportive Care in Cancer
Walker, Lauren M., et al.
"Mood, sexuality, and relational intimacy after starting androgen deprivation therapy: implications for couples"
(Abstract. First published online: May 18, 2018)
https://link.springer.com/article/10.1007%2Fs00520-018-4251-9
Other Popular Did You Know? Articles