Supplement Use Popular Among Men with Prostate Cancer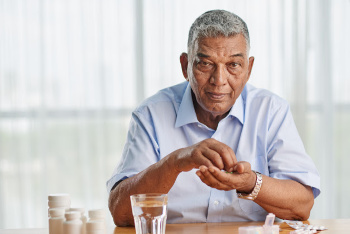 Use of complementary and alternative treatments for prostate cancer has increased since the mid-1990s, experts report in the Journal of Urology.
According to recent survey results, over half of the 7,696 participants had used such treatments within two years of their prostate cancer diagnosis.
The data come from the Cancer of the Prostate Strategic Urologic Research Endeavor (CaPSURE™), a project that has been ongoing since 1995. Participants are prostate cancer patients being treated at centers throughout the United States.
Forty percent of the men reported taking multivitamins, and 24% said they used omega-3 fatty acid supplements.
Complementary and alternative treatments have become more popular over the years.
Among men diagnosed with prostate cancer from 1996 to 2000, 24% used complementary and alternative medicines. From 2011 to 2016, the rate was 54%, an increase of 128%.
More men have been using vitamin D supplements as well. Between the 2006-2010 and 2011-2016 diagnosis periods, vitamin D use increased 108%.
Use of vitamin E has declined, however. When the 2006-2010 and 2011-2016 periods were compared, a 48% decrease was noted.
If you're thinking about complementary and alternative treatments for any medical issue, talk to your doctor first. A healthcare professional can guide you on these therapies and let you know how they might fit with your current treatment plan. Your doctor can also tell you whether any products or services you're considering would interact with your medications or other forms of treatment.
Resources
The Journal of Urology
Zuniga, Kyle B., et al.
"Trends in Complementary and Alternative Medicine Use among Patients with Prostate Cancer"
(Abstract. October 1, 2019)
https://www.auajournals.org/doi/abs/10.1097/JU.0000000000000336
Medscape Medical News
Hackethal, Veronica, MD
"'Concerning': Vitamin Use in Men With Prostate Cancer Increasing"
(September 19, 2019)
https://www.medscape.com/viewarticle/918688
University of California, San Francisco – Department of Urology
"CaPSURE™"