Veterans Often Face Further Sexual Difficulties after Military Sexual Trauma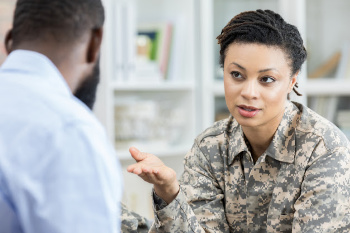 Women veterans who experience military sexual trauma have high rates of sexual dysfunction, according to a new study in Sexual Medicine Reviews.
Military sexual trauma is defined as "the experience of repeated sexual harassment or sexual assault during military service," explained the researchers, who reviewed six medical studies on the subject.
This type of trauma is linked to a number of health problems, including chronic pain, depression, post-traumatic stress disorder (PTSD), and substance abuse.
According to the Veterans Health Administration (VHA), military sexual trauma is reported by 23% to 33% of women veterans. Of these, almost 75% have sexual problems. This rate is higher than the rates for women veterans without a history of military sexual trauma and for civilian women.
The rate could be higher because women with histories of military sexual trauma are not routinely screened or treated for sexual problems by the Veterans Administration, the authors said.
The most commonly reported problems were low sexual desire and arousal difficulties.
While the study's main focus was women, the authors noted that almost 4% of men report military sexual trauma. Because more men than women use VHA services, the overall number of men affected could be similar to that of women. About 82% of men in this situation have sexual difficulties, with the most common being low desire. However, the men may face "intense stigma" when seeking help.
The authors recommended more research on veterans' sexual health and more education for healthcare providers who work with veterans.
Resources
Pulverman, Carey S. PhD, et al.
"Military Sexual Trauma and Sexual Health in Women Veterans: A Systematic Review"
(Full-text. Published online: April 24, 2019)
https://www.smr.jsexmed.org/article/S2050-0521(19)30019-8/fulltext