Veterans with PTSD More Likely to Have Sexual Dysfunction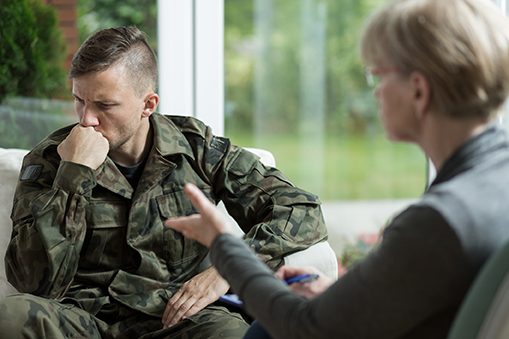 It's not unusual for men and women returning from war to experience post-traumatic stress disorder (PTSD) – ongoing feelings of stress and anxiety that occur after a traumatic or frightening event. Recently, a team of experts from the United States studied the sexual health of veterans with PTSD.
The project included 1,581 male and female veterans who had served in Iraq and Afghanistan. All were participants in a study called the Veterans After-Discharge Longitudinal Registry (Project VALOR). Nine hundred eighty-seven had PTSD and 594 did not.
Based on the veterans' responses to online questionnaires, the researchers found that those with PTSD were more likely to be diagnosed or treated for a sexual problem than those without the condition.
Over 70% of the men – with and without PTSD – reported being sexually active during the previous three months. But the situation was different for women. Only 59% of women with PTSD were sexually active during that time, compared to 72% of women without PTSD.
PTSD seemed to affect sexual satisfaction. Only 28% of men and 23% of the women with PTSD said they were satisfied with their sex lives. For both men and women without PTSD, the figure was 46%.
Other factors, such as medications, can affect a person's sexual health, and in this study, the link between PTSD and sexual dysfunction became less clear cut when such factors were accounted for. However, the lower rates of sexual satisfaction suggested that veterans with PTSD could have overall sexual health issues that need medical attention.
The study was first published online in April in the Journal of Traumatic Stress.
Resources
Journal of Traumatic Stress
Breyer, Benjamin N., et al.
"Sexual Health in Male and Female Iraq and Afghanistan U. S. War Veterans With and Without PTSD: Findings From the VALOR Cohort"
(Abstract. Published online: April 26, 2016)
http://onlinelibrary.wiley.com/doi/10.1002/jts.22097/abstract
Medical Daily
Cara, Ed
"Veterans With PTSD More Likely To Report Dissatisfaction With Sex Life, Women Often Have Less Sex"
(June 7, 2016)
http://www.medicaldaily.com/veterans-ptsd-sex-life-dissatisfaction-388867
National Institute of Mental Health
"Post-Traumatic Stress Disorder"
(February 2016)
http://www.nimh.nih.gov/health/topics/post-traumatic-stress-disorder-ptsd/index.shtml
Wiley
"PTSD May Negatively Affect Sex Life Satisfaction in Male and Female Veterans"
(Press release. June 3, 2016)
http://www.wiley.com/WileyCDA/PressRelease/pressReleaseId-125904.html
Other Popular Did You Know? Articles