Androgen Deprivation Therapy Doesn't Always Diminish Sexual Interest in Men with Prostate Cancer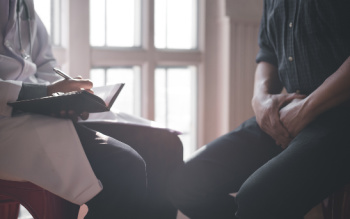 Many men who undergo androgen deprivation therapy (ADT) for prostate cancer remain interested in sex afterward, even with hormonal changes, according to a recent Journal of Sexual Medicine study.
They may still want intimacy with a partner, the authors reported.
Prostate cancer cells are fueled by hormones called androgens. ADT deprives them of that fuel. For some men, ADT means surgical removal of the testes, the glands that produce these hormones. Others take medication to reduce their androgen levels.
Unfortunately, ADT has sexual side effects. Testosterone is an androgen and plays a critical role in a man's sex drive and erections. Without it, men can experience diminished libido and have trouble getting firm erections.
This doesn't mean they lose sexual interest entirely, however. The study authors noted that other factors, such as the desire for intimacy and emotional bonding, can motivate men to have sex.
In this study, researchers investigated these motivators and considered models of sexuality that might fit men on ADT.
They analyzed questionnaire results from 76 men between the ages of 69 and 80 who had had at least 6 months of ADT. The men were asked about their experiences with ADT, their sexual activity, and their motivations for sex.
Sixty-two of the men said they had been sexually active before having ADT. Two of those men were still having sex. Among the whole group, 29 said they were still interested in sex, but low sexual satisfaction was common. Only one had erections that allowed him to penetrate a partner.
The men were presented with three models of sexuality based on previous sex research. They were asked to choose the one they agreed with, but most men did not answer this question.
From a provided list, some of the men selected reasons for their sexual interest:
To feel emotionally connected to their partner (16 men)
Desire and sexual excitement (10 men)
To satisfy their partner (8 men)
Fear that their partner would leave them (4 men)
To achieve orgasms (3 men)
To feel masculine (1 man)
Relationship and sexual issues, along with the importance of emotional connection, "may suggest that couples have difficulty finding new ways to express love and intimacy" following ADT-related sexual changes, the authors said.
They encouraged healthcare providers to address sexuality when treating men on ADT, adding that patients might not bring up the subject themselves.
They also recommended further research in this area.
Resources
The Journal of Sexual Medicine
Fode, Mikkel, MD, PhD, FECSM, et al.
"Sexual Motivators and Endorsement of Models Describing Sexual Response of Men Undergoing Androgen Deprivation Therapy for Advanced Prostate Cancer"
(Full-text. Published: May 21, 2020)
https://www.jsm.jsexmed.org/article/S1743-6095(20)30222-8/fulltext#%20