Breast Cancer Treatment Could Preserve Ovarian Function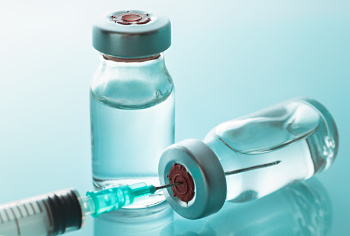 Ovarian function could be preserved for some women with breast cancer, reducing their chances of undergoing early menopause and potentially increasing their chances of becoming pregnant, according to the results of the Prevention of Early Menopause Study (POEMS).
Researchers have found that adding injections of a drug called goserelin to standard chemotherapy lowered the risk of ovarian failure in women with hormone-receptor negative breast cancer.
Breast cancer is classified by its hormone receptor status. Found in cancer cells, receptors are proteins that attach to the hormones estrogen and progesterone. Unfortunately, these hormones spur the growth of more cancer cells. Women with hormone-receptor positive breast cancer might take hormone therapy drugs to control the cancer.
Not all breast cancers have hormone receptors, however. Women with hormone-receptor negative breast cancer would not take hormone therapy drugs. This type of cancer is more common in women who have not gone through menopause yet.
Chemotherapy, a common breast cancer treatment, can damage the ovaries, leading to early menopause. At this point, women can no longer become pregnant and may develop sexual problems, such as vaginal dryness.
In the POEMS, researchers wanted to see whether early menopause could be avoided in women with hormone-receptor negative breast cancer.
Two hundred eighteen women were divided into two treatment groups. One group (113 women) had standard chemotherapy. The other group (105 women) received goserelin injection in addition to chemotherapy.
After analyzing five years of follow-up data, the researchers determined that 23% of the women in the goserelin + chemotherapy group had become pregnant. Only 12% of the women who received chemotherapy alone had done so.
In addition, the women in the goserelin + chemotherapy group had better five-year survival rates. At that point, 88% of those women were alive and disease-free. In the standard chemotherapy group, the rate was 79%.
"Goserelin protects the ovaries from the effects of chemotherapy, reducing the risk for early menopause," said lead researcher Dr. Halle Moore in a press release. "By getting these injections, more women became pregnant without negatively affecting their health or their chances of surviving their cancer."
"Our final results show a means to improve quality of life for young women with hormone-receptor negative breast cancer. If they want to be mothers, they can improve their chances safely and effectively," she added.
The findings were published in October in the Journal of the National Cancer Institute.
Resources
American Cancer Society
"Breast Cancer Hormone Receptor Status"
(Last revised: September 25, 2017)
https://www.cancer.org/cancer/breast-cancer/understanding-a-breast-cancer-diagnosis/breast-cancer-hormone-receptor-status.html
Journal of the National Cancer Institute
Moore, Halle C.F., MD, et al.
"Final Analysis of the Prevention of Early Menopause Study (POEMS)/SWOG Intergroup S0230"
(Abstract. October 27, 2018)
https://academic.oup.com/jnci/advance-article-abstract/doi/10.1093/jnci/djy185/5145902?redirectedFrom=fulltext
SWOG Cancer Research Network
"Hormone Injections Reduce Early Menopause"
(October 27, 2018)
https://www.swog.org/news-events/news/2018/10/29/hormone-injections-reduce-early-menopause