Depression Linked to Erectile Dysfunction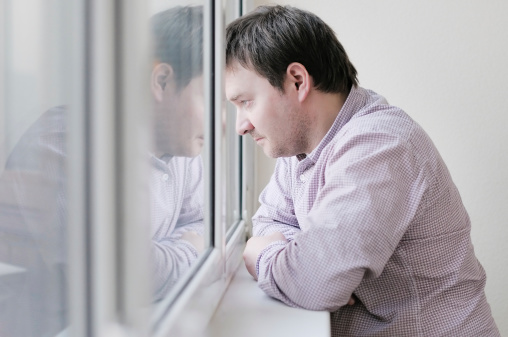 Depression may play a bigger role in erectile dysfunction (ED) than testosterone levels, according to a recent study.
Problems with erections can have many causes. Some are physical, such as heart disease and diabetes. And some are psychological and emotional, like depression and anxiety. Such causes can also overlap, making the situation even more complex.
Depression has been recognized as a contributing factor for ED before. Typically, when a man is sexually excited, his brain sends signals to his genitals that trigger an erection. But if a man feels depressed, his brain might not fully process these sexual feelings. The physical toll of depression may make him too tired and stressed to respond sexually, too.
The hormone testosterone is important to a man's sexual function, as it drives both libido and erections.
In this study, researchers from Finland and Estonia wanted to learn more about how depression and testosterone levels affected the erections of middle-aged men.
Six hundred fourteen men living in Finland participated in the study. All of the men were born in 1945. Scientific questionnaires were used to evaluate the men's erections and their depressive symptoms, if any.
The men also gave blood samples so that their testosterone levels could be checked.
The research team found that depression and obesity were associated with erectile dysfunction in this group of men. But testosterone levels were not.
Doctors should consider depression when treating middle-aged men with ED, the authors said.
The study was first published online in August in the Scandinavian Journal of Public Health.
Resources
Mayo Clinic
"Erectile dysfunction – Causes"
(February 10, 2012)
http://www.mayoclinic.org/diseases-conditions/erectile-dysfunction/basics/causes/con-20034244
Renal and Urology News
Landman, Jaime, MD
"Erectile Dysfunction (ED) in Middle-Aged Men Linked to Depression"
(September 30, 2014)
http://www.renalandurologynews.com/depression-erectile-dysfunction-ed-testosterone-middle-aged-men/article/374115/
Scandinavian Journal of Public Health
Suija, Kadri, et al.
"The association between erectile dysfunction, depressive symptoms and testosterone levels among middle-aged men"
(Abstract. Published online before print: August 11, 2014. Print publication date: November 2014)