Finasteride Linked to Sexual Problems in Men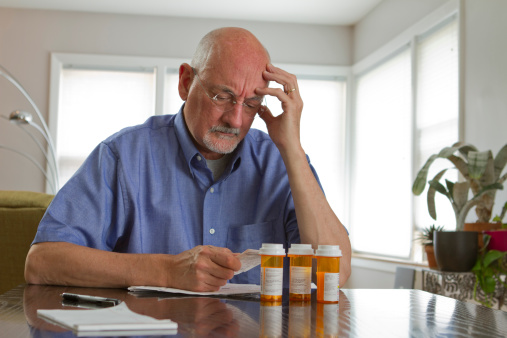 Researchers have found that men who take finasteride, a drug prescribed to treat benign prostatic hyperplasia (BPH) – an enlarged prostate, may be at higher risk for erection problems when compared to men who take the drug tamsulosin.
An enlarged prostate is common in older men. In fact, the American Urological Association estimates that over half of men will develop BPH by the time they're 60. By age 85, about 90% are expected to have the condition.
Some men with BPH have problems urinating and getting erections. Treatment may include surgery or medications like finasteride (Proscar or Procepia) or tamulosin (Flomax).
Finasteride is classified as a 5α reductase inhibitor. This usefulness of this drug category in treating BPH has been under debate, as some studies have reported sexual side effects.
A team of scientists from Boston University School of Medicine investigated this further. They collected data from 700 men with BPH. Four hundred seventy of the men took finasteride. The remaining 230 took tamsulosin, an alpha blocker that works differently from finasteride.
For almost four years, the researchers followed the men and checked to see how well the drugs were working for BPH. They also studied the drugs' effects on testosterone levels, erections, and quality of life.
Both of the drugs relived urinary symptoms of BPH. But men on finasteride gradually developed erectile dysfunction (ED), which did not get better with continued treatment. Also, testosterone levels significantly declined for men on finasteride, resulting in hypogonadism (low testosterone).
In contrast, the men who took tamsulosin did not have these side effects.
"Since sexual function is considered an integral part of overall health, it is important that physicians are aware of the adverse side effects of this class of drugs on human health in general and on sexual function in particular," said researcher Abdulmaged M. Traish, MBA, PhD in a press release.
"Our study emphasized that the effect on erectile function is a serious concern and needs to be considered more carefully," he added.
The report was first published online in June in the journal Hormone Molecular Biology and Clinical Investigation.
Resources
Boston University Public Relations
"Erectile Dysfunction Worsened, Testosterone Levels Decreased by Some Drugs for Treatment of Prostate Enlargement"
(Press release. June 12, 2015)
http://www.bu.edu/news/2015/06/12/erectile-dysfunction-worsened-testosterone-levels-decreased-by-some-drugs-for-treatment-of-prostate-enlargement/
Hormone Molecular Biology and Clinical Investigation
Traish, Abdulmaged M., et al.
"Finasteride, not tamsulosin, increases severity of erectile dysfunction and decreases testosterone levels in men with benign prostatic hyperplasia"
(Abstract. Published online ahead of print: June 2015)
http://www.degruyter.com/view/j/hmbci.ahead-of-print/hmbci-2015-0015/hmbci-2015-0015.xml?rskey=Ue7UzF&result=2