Gaming Might Affect Sexual Desire and Ejaculation in Men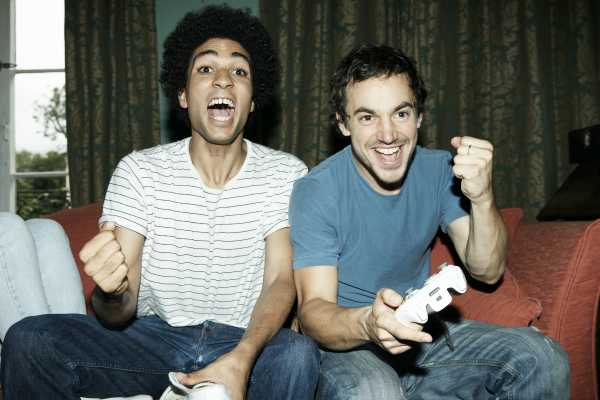 From Tetris to Pokémon to Halo, videogames have been a popular form of entertainment for decades. And during that time, scientists have investigated how playing videogames affects one's health. But how about sexual health?
In a recent Journal of Sexual Medicine study, experts found that gaming might affect men's sexual function, in positive and negative ways.
Using social media, researchers recruited 396 men who ranged in age from 18 to 50. On average, the men were about 28 years old. All participants had had intercourse during the previous month; roughly 70% were in stable relationships. About 72% said they were "gamers" - they played videogames for at least an hour every day. The rest spent less time gaming and were considered "non-gamers."
The men filled out two online questionnaires designed to evaluate sexual health. The International Index of Erectile Function (IIEF) focuses on five aspects: erectile function, orgasmic function, sexual desire, intercourse satisfaction, and overall satisfaction. It is often used to diagnose men with erectile dysfunction (ED), the inability to get and keep an erection firm enough for sex.
The men also completed the Premature Ejaculation Diagnostic Tool (PEDT). As the name suggests, this questionnaire is used to assess premature ejaculation (PE). Men with PE climax before they wish to, usually within two minutes of penetrating their partner.
They also answered questions about their relationship status, gaming habits, and sexual activity.
Looking at the IIEF results, the researchers found few differences between gamers and non-gamers for erectile function, orgasmic function, and overall sexual satisfaction. However, non-gamers had slightly better median scores for sexual desire. In other words, they felt slightly more sexual desire than the gamers did.
PEDT results showed that none of the gamers had PE. In contrast, 69% of the non-gamers either had PE or "probable" PE based on their questionnaire scores.
Why was there a connection between gaming and sexual health? It's possible that videogame "rewards" are related to dopamine levels in the brain, the researchers said. Dopamine is a neurotransmitter involved with forms of pleasure, including ejaculation and orgasm. When gamers do well, their dopamine levels go up.
The study authors also pointed out that "videogame stress" could lead to higher levels of prolactin, which could impair sexual function.
They added that more research is needed to fully understand the association between videogames and sexual health. In time, however, this understanding might help doctors who treat men with PE or low desire.
The study was first published online in June in the Journal of Sexual Medicine.
Resources
The Journal of Sexual Medicine
Sansone, Andrea, MD, et al.
"Relationship Between Use of Videogames and Sexual Health in Adult Males"
(Full-text. Published online: June 1, 2017)
http://www.jsm.jsexmed.org/article/S1743-6095(17)31149-9/fulltext
MedlinePlus
"Prolactin blood test"
(Review date: August 7, 2016)
https://medlineplus.gov/ency/article/003718.htm
Psychology Today
"Dopamine"