New Instrument Assesses Sexual Health in Survivors of Cervical and Endometrial Cancer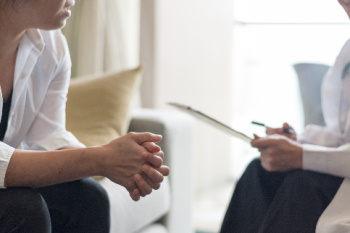 Scientists are developing a new assessment tool to evaluate the sexual health of women after cervical cancer and endometrial cancer.
The Sexual Well-being after Cervical or Endometrial Cancer tool - SWELL-CE for short – is geared for women regardless of whether they are sexually active or not. It also covers the physical, emotional, and relational concerns of cancer survivors.
Treatment for cervical cancer (affecting the cervix – the tissue that connects the uterus and vagina) and endometrial cancer (affecting the endometrium – the lining of the uterus) may include surgery, chemotherapy, radiation, and other therapies. However, many women experience sexual side effects from treatment, such as vaginal dryness, vaginal stenosis (narrowing), menopausal symptoms, and trouble with urination. Related anxiety and depression can worsen sexual issues.
Doctors don't always address these problems, and standard tools used to address sexual dysfunction may not be appropriate for cancer survivors. In a recent Journal of Sexual Medicine study, researchers described how the SWELL-CE was created.
The SWELL-CE (as well as a shorter diagnostic version) focuses on three main domains:
Sexual and relationship concerns. Examples: worries that sex will trigger a cancer recurrence, changes in a relationship, being uncertain about having sex again.
Physical sexual function. Examples: uncomfortable intercourse, tight vagina, fear of having intercourse.
Sexual desire and sexual self-esteem. Examples: not feeling like having sex, not feeling like a woman anymore, not feeling as sexually attractive anymore.
Questionnaire development went through several stages, with cervical and endometrial cancer survivors testing it and providing feedback. The tool was also reviewed by bisexual and lesbian women to make sure it was inclusive for same-sex and heterosexual participants.
The study authors noted that the SWELL-CE is different from some other female sexuality assessment tools because it includes the emotional and relational impact of cancer treatment, not just physical dysfunction.
"An instrument's ability to assess emotional and relationship aspects of sexual well-being is important clinically," the authors wrote, "particularly when irreversible anatomical or physiological changes (vaginal shortening, dryness) may require permanent adaptation of sexual behaviors and establishment of new norms."
Another strength is its use for sexually active and non-sexually active women, the authors said.
The SWELL-CE does have its limitations, they added. Most of the women who tested the tool were British and white, so it is not clear how women of other ethnicities and backgrounds would respond to it. In addition, more testing is needed with women who identify as non-heterosexual and women whose first language is not English.
The tool will undergo further development in future studies, the researchers said.
Resources
The Journal of Sexual Medicine
White, Isabel Duncan, PhD, et al.
"Sexual Morbidity Assessment in Gyne-Oncology Follow-Up: Development of the Sexual Well-Being After Cervical or Endometrial Cancer (SWELL-CE) Patient-Reported Outcome Measure"
(Full-text. Published: July 30, 2020)
https://www.jsm.jsexmed.org/article/S1743-6095(20)30722-0/fulltext