Possible Link Found Between Prostate Cancer and STI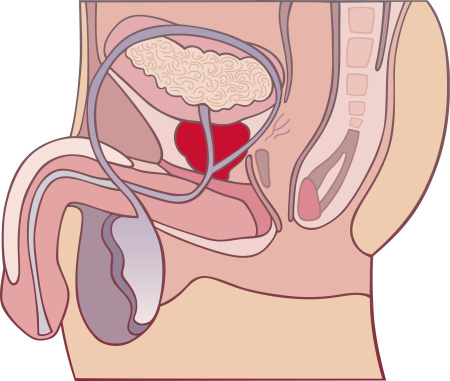 A team of scientists from the Argentina, Italy, and the United States has found a possible connection between the sexually-transmitted infection trichomoniasis and prostate cancer.
Trichomoniasis (sometimes called "trich") is caused by a parasite called Trichomonas vaginalis.
The scientists discovered that this parasite secretes a protein that is very similar to a protein made by humans. These proteins can lead to inflammation of the prostate, which in turn can spur the growth of both normal prostate cells and cancerous ones.
The researchers suggested that if the parasite protein acts like the human protein, it might contribute to the growth of prostate cancer cells.
It's important to note that these results do not mean that trichomoniasis causes prostate cancer or that prostate cancer is a sexually-transmitted disease. However, the findings might provide some clues for future research.
In an interview with the BBC, Nicola Smith of Cancer Research UK said, "This study suggests a possible way the parasite Trichomonas vaginalis could encourage prostate cancer cells to grow and develop more quickly."
"But the research was only done in the lab, and previous evidence in patients failed to show a clear link between prostate cancer and this common sexually transmitted infection," she added.
The Centers for Disease Control and Prevention (CDC) estimate that 3.7 million people in the United States have trichomoniasis. Women are more likely to be infected than men.
The parasite can be spread from the vagina to the penis and vice versa. It can also be transmitted from vagina to vagina.
About 70% of people with trichomoniasis have no symptoms and don't know that they are infected.
Those that do have symptoms usually have genital itching and discomfort. Some have a discharge from the penis or the vagina and experience a burning sensation while urinating. (Men might have discomfort while ejaculating, too.) Symptoms do not always start right away; it might take several weeks for them to develop.
Trichomoniasis is easily treated with medication, but it can be caught again. Safer sex practices, like using condoms, can reduce the risk of infection.
Resources
BBC News
Roberts, Michelle
"Prostate cancer 'may be a sexually transmitted disease'"
(May 19, 2014)
http://www.bbc.com/news/health-27466853
Centers for Disease Control and Prevention
"Trichomoniasis - CDC Fact Sheet"
(Page last updated: August 3, 2012)
http://www.cdc.gov/STd/trichomonas/STDFact-Trichomoniasis.htm
LiveScience
Lallanilla, Marc
"Can a Common STD Cause Prostate Cancer?"
(May 20, 2014)
http://www.livescience.com/45743-sti-std-trichomoniasis-trich-prostate-cancer.html
NHS Choices
"Prostate cancer linked to common STI"
(May 21, 2014)
http://www.nhs.uk/news/2014/05May/Pages/Prostate-cancer-linked-to-common-STI.aspx
Proceedings of the National Academy of Sciences of the United States of America
Twu, Olivia, et al.
"Trichomonas vaginalis homolog of macrophage migration inhibitory factor induces prostate cell growth, invasiveness, and inflammatory responses"
(Full-text. Published online before print: May 19, 2014)
http://www.pnas.org/content/111/22/8179.full.pdf+html?sid=5dc7306d-d557-4fab-bf23-42410c164ba9
WebMD
Russell, Peter
"Prostate Cancer 'Could Be Transmitted Sexually'"
(May 23, 2014)
http://www.webmd.com/prostate-cancer/news/20140523/prostate-cancer-std