Prostate Cancer Survivors Need Sexual "Support"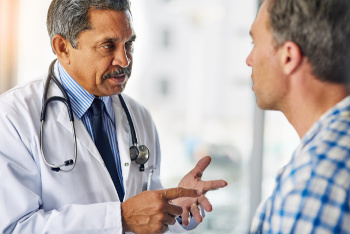 Most men experience sexual problems, especially erectile dysfunction (ED), after prostate cancer treatment. But for many, these problems aren't addressed by doctors, according to a recent survey of men in the United Kingdom.
Prostate cancer treatments can affect a man's sexual function in a number of ways. The prostate gland itself is surrounded by nerves that help make erections happen. Unfortunately, surgery and radiotherapy can damage these nerves, and ED follows.
Hormonal therapy can take a toll as well. Hormones called androgens spur the growth of prostate cancer cells. Limiting this fuel can slow down the cancer, but one hormone, testosterone, is essential for men's sex drive and erections. When levels drop, sexual function is often compromised.
Almost 36,000 men with prostate cancer took part in the survey, answering questions about their experiences with urinary incontinence, sexual function, daily living, pain, anxiety, depression, and quality of life. The men's median age was 71 years, and the survey was completed from 18 to 24 months following their cancer diagnosis.
Overall, 81% of the men reported having poor erections, which were most common in men with advanced disease. About 45% of the men said sexual problems caused them distress.
Hormonal treatment was associated with the highest rate of sexual dysfunction at 94%, followed by surgery (84%), and radiotherapy (79%).
Despite the high rate of sexual dysfunction, however, 56% of the men said they were not offered support to help them. Younger men were more likely to be offered support than older men.
In addition, 81% of the men who had had surgery were offered support, compared to just 35% of the men who underwent radiotherapy.
Sexual problems don't always occur immediately.
"For some men, it can be months before any erection problems are experienced following their treatment, especially if they're received radiotherapy," explained Heather Blake of Prostate Cancer UK, one of the study's funders, in an interview with the University of Leeds.
She added, "By this stage, follow up appointments may have reduced, with far fewer opportunities to raise any late side effect issues."
Ms. Blake stressed the importance of communication between patients and doctors to address erectile dysfunction after prostate cancer treatment.
The study was published in January in The Lancet Oncology. The Movember Foundation also funded the research.
Resources
American Cancer Society
"Hormone Therapy for Prostate Cancer"
(Last revised: July 18, 2018)
https://www.cancer.org/cancer/prostate-cancer/treating/hormone-therapy.html
The Lancet Oncology
Downing, Amy, PhD, et al.
"Quality of life in men living with advanced and localised prostate cancer in the UK: a population-based study"
(Abstract. Published: January 31, 2019)
https://www.thelancet.com/journals/lanonc/article/PIIS1470-2045(18)30780-0/fulltext
Medscape Medical News
Harrison, Pam
"Good QOL, but Sexual Dysfunction Common After Prostate Cancer"
(February 5, 2019)
https://www.medscape.com/viewarticle/908685
Prostate Cancer Foundation
"Erectile Dysfunction"
https://www.pcf.org/about-prostate-cancer/prostate-cancer-side-effects/erectile-dysfunction/
University of Leeds
"Inadequate support for sexual dysfunction in prostate cancer patients"
(February 2, 2019)
https://www.leeds.ac.uk/news/article/4365/inadequate_support_for_sexual_dysfunction_in_prostate_cancer_patients