Statins Before Prostatectomy Don't Improve Erectile Function, Study Finds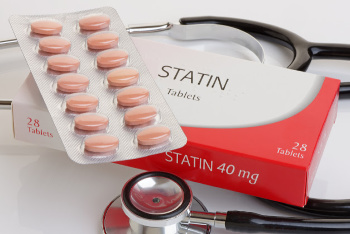 Taking statins before radical prostatectomy doesn't seem to affect erectile function after surgery, scientists report in the Journal of Sexual Medicine.
Prostatectomy – surgical removal of the prostate gland - is a frequent treatment for prostate cancer. Many men develop erectile dysfunction (ED) afterward.
Statins are drugs prescribed to lower LDL ("bad") cholesterol. While they are not specifically ED drugs, research suggests that some men's erections improve while taking them. This effect might be due to statins' anti-inflammatory properties.
This study investigated whether taking statins before prostatectomy might help men's erections recover after surgery.
The researchers worked with 118 Finnish men with prostate cancer. The men were randomly assigned to take either 80 mg of atorvastatin or a placebo before their scheduled radical prostatectomy.
Before their procedure, and again at three-, six-, nine-, and twelve-month follow-up points, the men completed the 5-item version of the International Index of Erectile Function (IIEF-5). This questionnaire is often used by health professionals to assess ED.
The men's median age was 64 years. Those who took atorvastatin did so for a median of 27 days before surgery. In the placebo group, the median duration was 25 days.
Before surgery, about 43% of the men in the statin group and 45% of those in the placebo group had normal erections. After twelve months, the rates were 9% and 4% in the statin and placebo groups, respectively.
Also before prostatectomy, 8% of the statin group and 4% of the placebo group had severe ED. At the twelve-month follow-up, 65% of the statin group and 78% of the placebo group had severe ED.
"There were no significant differences in IIEF-5 scores between the study arms at any time point after prostatectomy or at the baseline," the authors wrote. Even after health conditions like diabetes, high blood pressure, and smoking status were considered, the general results were similar.
The authors did note that men who took atorvastatin tended to have higher IIEF scores than men in the placebo group at all follow-up points; however, the differences were not considered statistically significant. Still, larger studies might identify a connection. "There may be effects in specific subgroups," the authors explained.
They also recommended future research on long-term statin use as well as the effects of prescribing statins before or after prostatectomy.
Resources
The Journal of Sexual Medicine
Siltari, Aino, PhD, et al.
"Effects of Preoperative Atorvastatin Treatment On Erectile Function After Radical Prostatectomy: Results From a Subgroup of ESTO1, a Randomized, Double-Blind, Placebo-Controlled Study"
(Full-text. August 9, 2019)
https://www.jsm.jsexmed.org/article/S1743-6095(19)31278-0/fulltext
Renal and Urology News
Charnow, Jody A.
"Statin Use Prior to PCa Surgery Has No Effect on Erectile Function Recovery"
(August 26, 2019)
https://www.renalandurologynews.com/home/departments/mens-health-update/erectile-dysfunction/statin-use-prior-to-pca-surgery-has-no-effect-on-erectile-function-recovery/
WebMD
"What are statins?"
(June 1, 2018)
https://www.webmd.com/cholesterol-management/qa/what-are-statins