The Effect of Pornography on Sexual Satisfaction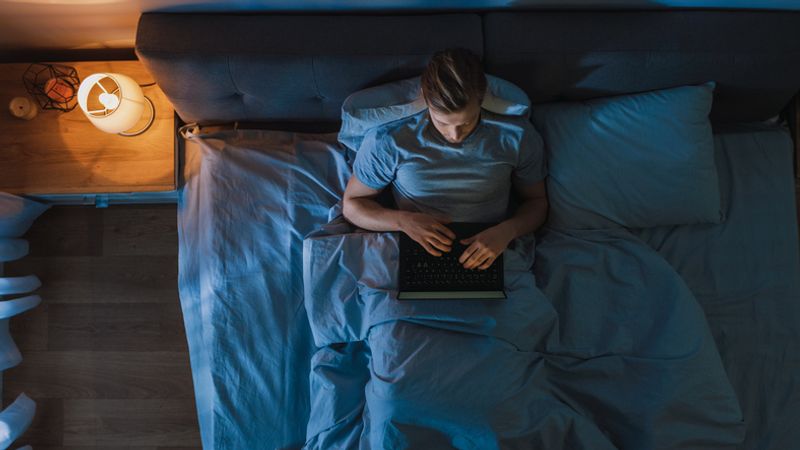 Pornography use has become more prevalent in recent years due to the ease of access of readily available free content on porn streaming websites. By some estimates, over half of all men and one-third of all women watch porn at least once a year. Nevertheless, it remains somewhat controversial, and sexual medicine experts have debated the possible role of frequent porn viewing in sexual dysfunction, relationship problems, and sexual dissatisfaction.
Some studies suggest that frequent porn viewing can affect the brain's reward processing system in a way similar to that of addictive substances. While the brain's reward system is crucial for reinforcing behaviors that ensure our survival as a species (e.g., eating, drinking, and having sex,) it is also largely involved in addictions and compulsive behaviors like gambling, drug use, and problematic pornography use. In fact, one study found that individuals seeking treatment for problematic pornography use who were shown erotic stimuli had a similar activation of their brain reward circuits as individuals with gambling disorders who were shown monetary rewards.
The biological processes that reinforce a porn addiction may, in turn, contribute to decreased sexual satisfaction. When an individual watches porn, he or she is able to instantly and repeatedly trigger the brain's reward response with images and scenes that they find especially arousing. Over time, a frequent pornography viewer's tolerance for sexual stimuli may go up, and they may begin to find real-world sexual activities increasingly lacking and unsatisfying in comparison.
Increased tolerance to sexual stimuli is likely not the only culprit when it comes to porn and decreased sexual satisfaction. Researchers speculate that frequent pornography users may develop unrealistic expectations of sexual interactions, both for their partners and themselves. For example, if a sexual partner is not interested in engaging in a specific behavior or fantasy that is portrayed in porn, the porn viewer may feel less satisfied with their sexual relationship. On the other hand, if a person is not able to perform as well or as long as the people they view in porn videos, they may feel anxious and inadequate during their own sexual encounters.
Although research has indicated that frequent pornography use may be detrimental to sexual satisfaction, not all pornography use seems to have this effect. One large-scale nationally representative survey of adults in Sweden revealed that more people felt that porn had a predominantly positive effect on their sex life (22.6% of men and 15.4% of women) than believed it had a predominantly negative effect (4.7% of men and 4.0% of women). Still, this finding came with a caveat regarding frequency. The authors found an association between frequent porn usage (defined for this study as 3 or more times a week) and sexual dissatisfaction characterized by the feeling of not having enough sex, wanting more sexual partners, and/or the feeling of not having sex in the preferred way.
In the end, the relationship between pornography use and sexual satisfaction is complex and may be influenced by a number of factors. Nevertheless, research indicates that problematic pornography consumption is likely damaging to sexual satisfaction. If pornography is negatively affecting your life or your relationship with your partner, you may benefit from speaking with your health care provider, a sex therapist, or a mental health specialist.
Resources:
Lew-Starowicz, M., Wordecha, M., Sescousse, G., Potenza, M.N., Wypych, M., Marchewka, A., & Gola, M. (2018). 119 Reward processing–related orbitofrontal reactivity alterations in patients suffering from problematic pornography use. The Journal of Sexual Medicine, 15(7), S178. DOI: https://doi.org/10.1016/j.jsxm.2018.04.121
Malki, K., Rahm, C., Öberg, K.G., & Ueda, P. (2021). Frequency of pornography use and sexual health outcomes in Sweden: Analysis of a national probability survey. The Journal of Sexual Medicine, 18(10), 1735-1751. DOI: https://doi.org/10.1016/j.jsxm.2021.08.003
Thompson, D. (2017, May 12). Study Sees Link Between Porn and Sexual Dysfunction. WebMD. https://www.webmd.com/sex/news/20170512/study-sees-link-between-porn-and-sexual-dysfunction
Willoughby, B.J., Leonhardt, N.D., & Augustus, R.A. (2021). Associations Between Pornography Use and Sexual Dynamics Among Heterosexual Couples. The Journal of Sexual Medicine, 18(1), 179-192. DOI: https://doi.org/10.1016/j.jsxm.2020.10.013