Mindfulness After Prostate Cancer Treatment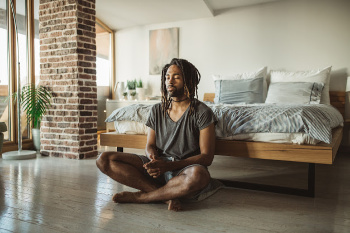 Prostate cancer survivors and their partners often face long-term sexual problems, especially erectile dysfunction (ED). Medical treatments can be effective, but some experts think adding other therapeutic approaches like mindfulness and acceptance may help even more.
In a recent Sexual Medicine paper, researchers explain that men's erections don't usually go back to how they were before prostate cancer treatment. Post-treatment support that focuses mainly on erectile function could "exacerbate patients' feelings of hopelessness and disappointment," they wrote.
They defined mindfulness as "non-judgmental present-moment awareness" – a direct attention on pleasurable sexual sensations as they occur. Sensate focus, during which couples focus on non-sexual touching that progresses to intimate contact, is one example of a mindfulness-based approach.
In this way, men might shift their attention from sexual performance and erections to enjoyment of sex and sharing intimacy with their partner.
Incorporating mindfulness and acceptance into sex can take some time and practice. Some couples consider sex therapy as they learn to adjust their sexual activities after prostate cancer treatment. In-person therapy sessions are one route, but apps might also be effective.
If you and your partner are coping with intimacy changes after treatment, don't hesitate to talk to your doctor.
For more information, please see these related links:
Prostate Cancer Survivors and Partners Want Information on Sexual Recovery
Prostate Cancer Survivors Need Sexual "Support"
Prostate Cancer is a "Couples Disease," Scientists Say
Cancer and Sexuality: Questions For Your Provider
Resources
Sexual Medicine
Bossio, Jennifer A., PhD, et al.
"Sexual Health Recovery For Prostate Cancer Survivors: The Proposed Role Of Acceptance And Mindfulness-Based Interventions"
(Full-text. Published online: April 24, 2019)
https://www.smr.jsexmed.org/article/S2050-0521(19)30018-6/fulltext
Other Popular Did You Know? Articles