Prostate Cancer's Physical and Emotional Effects May be "Reciprocal"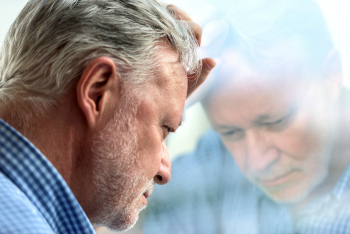 Undergoing prostate cancer treatment can leave men both physically and emotionally spent. Common approaches like surgery, radiotherapy, chemotherapy, and hormone therapy often have side effects, including problems with urinary and bowel function, sexual function, and fatigue. The stress of a cancer diagnosis and feeling unwell, along with concerns about meeting obligations and planning for the future, may be overwhelming.
The physical and emotional impacts of prostate cancer might fuel each other, too. In a recent Journal of Urology study, scientists reported on the "reciprocal" relationship between physical and emotional aspects of prostate cancer treatment.
Researchers asked 1,148 men with localized prostate cancer to complete questionnaires related to their urinary, sexual, and bowel health as well as their emotional distress. ("Localized" means that the cancer had not spread to other parts of the body.) Sixty-three percent of the patients had been treated with surgery; the rest had undergone radiotherapy.
The men filled out the questionnaires before their treatment and again at follow up points scheduled 6, 12, 18, and 24 months later.
Over time, the scientists saw that the men with worse urinary, bowel, and sexual function were more distressed than the men with better function. At the same time, men who said they felt more distressed tended to have more trouble with their urinary, bowel, and sexual function.
Prostate cancer survivors' distress needs attention, the study authors said.
"There is growing appreciation for the need to support cancer survivors' emotional well-being during survivorship, and for prostate cancer patients a key concern is mitigating the influence of treatment side effects on quality of life, including psychological well-being," explained lead author Heather Orom, PhD of the University at Buffalo's School of Public Health and Health Professions in a news release.
Co-author Willie Underwood III, MD of Roswell Park Comprehensive Cancer Center added, "As urologists, we want men who are treated for prostate cancer to return to their way of life. In order to do so, we must determine better ways to assist men through their emotional distress. Curing their cancer is only the beginning to making them whole."
The authors recommended that erectile dysfunction (ED) treatments be more accessible to prostate cancer survivors and that therapies be easily available to patients with high levels of distress.
Please see these links to learn more about prostate cancer, its treatment, and its effects on patients and partners:
Prostate Cancer (overview)
How Does Cancer Affect Men's Sexual Health?
Survey Reveals the Emotional Impact of Prostate Cancer
Sexuality of Older Cancer Survivors
Prostate Cancer Effects on Caregiving Partners
Resources
The Journal of Urology
Orom, Heather
"Worse Urinary, Sexual and Bowel Function Cause Emotional Distress and Vice Versa in Men Treated for Prostate Cancer"
(Abstract. Published online: December 26, 2018)
https://www.jurology.com/article/S0022-5347(17)78180-3/abstract
University of Buffalo
"Study: For patients with prostate cancer, dysfunction due to treatment side effects results in increased emotional distress – and vice versa"
(Press release. May 31, 2018)