Treating Peyronie's Disease Without Surgery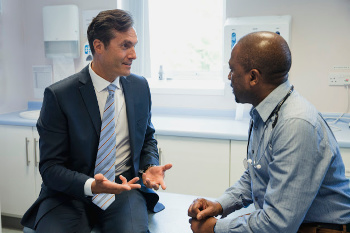 One notable symptom of Peyronie's disease is the formation of plaques just beneath the skin of the penis. When plaques develop, the penis loses some of its flexibility when erect. The result is a curve that can make intercourse quite difficult.
Many men with Peyronie's disease opt for surgery to straighten their penis and improve sexual function. But patients aren't always satisfied afterward. They might lose some penile length and still need treatment for erectile dysfunction.
Fortunately, non-surgical approaches are available. A recent study in the journal Therapeutic Advances in Urology discusses some of them. Below, we'll break them down in to categories and provide some links for you to learn more. (Note: In some cases, a combination of different therapies is recommended.)
Intralesional injections. These medicines are injected directly into the plaque(s). Currently, C. histolyticum is the only injected drug approved the U.S. Food and Drug Administration (FDA).
Peyronie's Disease: Treatment Priorities May Guide Intralesional Injection Choice
Mechanical therapies. Some men benefit from using special traction and vacuum erection devices. The devices need to be used consistently over the long term, however.
Treating Peyronie's Disease with Penile Stretching
Peyronie's Treatments – Traction Therapy and VEDs
Pills and topical therapies. Studies of these approaches have had mixed results, and the treatments are generally not recommended.
What's in the future for Peyronie's disease treatment? In time, stem cell therapy might be an option, but more research is still needed.
Your doctor can help you decide which route is best for you.
Resources
Therapeutic Advances in Urology
Randhawa, Karen and C. J. Shukla
"Non-invasive treatment in the management of Peyronie's disease"
(Full-text. First published: February 11, 2019)