PSA and Total Testosterone Levels in Men With Prostate Cancer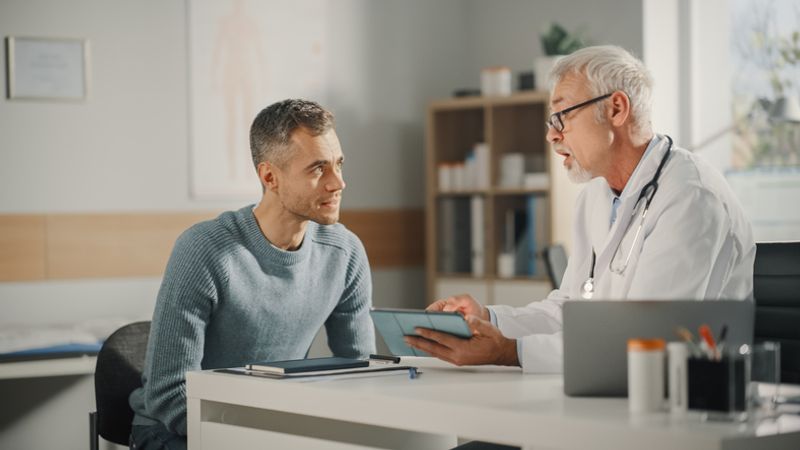 Prostate-specific antigen (PSA) is a protein produced by the prostate. Because PSA levels are often elevated in men with prostate cancer, health care providers use PSA blood measurements to screen for and monitor prostate cancer. For example, if a man is found to have high levels of PSA in his blood, a prostate biopsy may be recommended to determine if prostate cancer is present.
Additionally, there is a higher incidence of prostate cancer among men with low testosterone. Since low testosterone and prostate cancer may occur at the time same time, medical professionals might choose to measure prostate cancer patients' serum total testosterone levels, even though medical guidelines currently do not include serum testosterone testing as a necessary/required part of prostate cancer assessment.
Given the independent associations of PSA and testosterone levels with prostate cancer, a team of researchers sought to better understand the potential relationship between these two measures in prostate cancer patients. To do so, they collected and analyzed the PSA and serum total testosterone levels of 646 prostate cancer patients in a retrospective study. The mean age of the men included in the study was 61 years.
Regarding PSA levels, the patients were divided into three groups: <2 ng/mL, 2–4 ng/mL, >4 ng/mL. Of the 646 participants, 8% had PSA levels of <2 ng/mL, 17% had between 2–4 ng/mL, and 76% had >4 ng/mL.
The cut-off points for low testosterone and very low testosterone were <10.4 nmol/L (300 ng/dL) and <6.9 nmol/L (200 ng/dL), respectively. A total of 30% of the participants had low testosterone by this definition, and the mean testosterone level overall was 13 nmol/L.
Analysis of the men's PSA and testosterone levels revealed that PSA levels of <4 ng/mL were a significant predictor of low testosterone in prostate cancer patients like a Gleason score of ≥8. (Gleason score is a measure of the aggressiveness of prostate cancer ranging from about 6-10 with higher numbers indicating a more advanced disease state).
In fact, men with PSA levels of <2 ng/mL were 31 times more likely to have low testosterone and about 40 times more likely to have very low testosterone than the men with PSA levels of >4 ng/mL.
Based on these findings, the researchers suggested that health care professionals should consider measuring a patient's total testosterone levels when they have been diagnosed with prostate cancer of a high Gleason score (≥8) and a PSA level of <4 ng/mL.
---
Resources:
Flores, J.M., Bernie, H.L., Miranda, E., Nascimento, B., Schofield, E., Benfante, N., Carlsson, S., & Mulhall, J.P. (2022). The Relationship Between PSA and Total Testosterone Levels in Men With Prostate Cancer. The Journal of Sexual Medicine, 19(3), 471-478. DOI: https://doi.org/10.1016/j.jsxm.2022.01.003