Penile Implants From a Partner's Perspective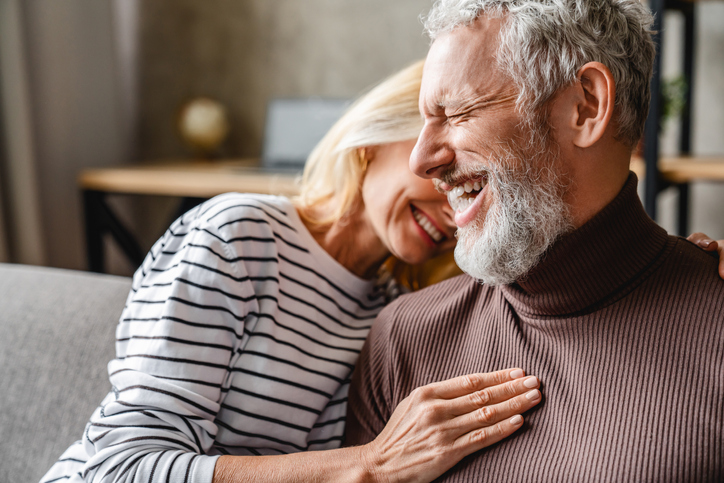 One of the most frequently asked questions among people who are considering getting a penile prosthesis (implant) to treat erectile dysfunction (ED) is: How will my partner feel about it? Fortunately, research indicates that partners' responses to penile implants are generally positive and partner satisfaction rates are high.
A recent study published in Current Urology examined the electronic patient files of 126 individuals who had undergone inflatable penile prosthesis (IPP) implantation over a 5-year period to determine rates of revision surgeries, mechanical failure, and reported patient and partner satisfaction. Additionally, the authors conducted structured telephone interviews with 95 of the 126 IPP patients at least one year after surgery to further assess satisfaction. Of the 95 patients who could be reached by phone, 93 had a regular partner who was included in the survey.
The structured telephone interview included questions about patient satisfaction, partner satisfaction, overall quality of life, and whether or not the respondent would recommend IPP to a friend. Participants were asked to rate their answers on a scale from 0 to 5, considering and supplying answers for both the pre-operative and post-operative timeframes.
Interviewers also asked the participants two questions from the sexual encounter profile (SEP): 1) "Were you able to insert your penis into your partner's vagina?" and 2) "Did your erection last long enough for you to complete intercourse with an orgasm?" Again, the respondents were asked to answer these questions both pre- and post-operatively.
Finally, the participants were asked about the timeframe between IPP activation and the first time they had intercourse with the implant.
The results of the study demonstrated that the majority of the patients and their partners were satisfied with the penile implants a year or more after surgery. Seventy-nine of the 95 patients interviewed (83%) were satisfied with the penile prosthesis at one year or later, and 76 of the 93 partners (85%) were satisfied in the same timeframe. Eighty of the 95 patients contacted (84%) would recommend IPP to a friend.
It is necessary for patients to heal for about eight weeks after surgery before activating the IPP. On average, patients and their partners waited about six weeks to have intercourse after penile implant activation, though this timeframe varied by couple. About 38% of the participants reported having intercourse within two weeks of activation, 15% between two to four weeks, 25% between five to eight weeks, and 19% waited at least eight weeks to have intercourse post IPP activation. (Three of the 95 patients reported not having intercourse with the implant at the time of the study).
The authors of this study not only observed high rates of patient and partner satisfaction with penile implants, but also important improvements in quality-of-life scores as determined by the patient's pre- and post-operative rankings. This research builds on previous literature which has shown consistently high patient and partner satisfaction rates for penile implants. Nevertheless, it is important for an individual who is considering IPP implantation to speak with their health care provider about the risks and benefits involved before taking this step.
Resources:
Jorissen, C., De Bruyna, H., Baten, E., & Van Renterghem, K. (2019). Clinical Outcome: Patient and Partner Satisfaction after Penile Implant Surgery. Current Urology, 13, 94-100. DOI: 10.1159/000499286.